How many of us are aware of the fight that multitudes of women have to prepare for every year? The fight for life, for freedom, for being an empowered, healthy individual – this is a battle that's estimated to involve over 1797900 Indian women by the year 2020 against a single, looming threat – Breast Cancer.
This illness is the most common cancer among women all across the world, and the leading cause of death among those afflicted by it in our country. It's time for all of us to come together, break through the stigma that surrounds it, spread awareness, and work towards the betterment of women's health in India through solidarity and positivity. This is exactly what Pinkathon aims towards by focusing on physical and mental self-care through organising of women's marathons all across the country. VIBGYOR is proud to be the Knowledge Partner of Pinkathon 2017 in Pune.
"VIBGYOR believes in the holistic development of students and the community, and Pinkathon is a platform where we can help the society bring awareness among the community. That's why VIBGYOR is a Partner," said Ms. Medha Nair, Principal of VIBGYOR Hinjewadi.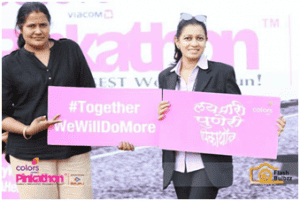 The marathon took place on the 26th of November at Mulik Ground, with over 5000 women irrespective of age, interests or ability taking part in this movement. The event saw the involvement of mothers carrying babies as young as 2 months old, elderly cancer survivors who were present as Pink Sisters, children from the Blind School, as well as the participation of students, parents, and teachers from VIBGYOR schools in Pune. The venue was packed with energy on this day, with participants gearing for the various runs, or getting pumped up with Zumba routines.

"What's important is spending a little bit of time for yourself. It's about realising your dreams, and removing the limitations that you have," said Mr. Milind Soman, Founder of Pinkathon. "I believe that all of us must set a good example, and children today need to see people doing things that add value to life. Rather than telling them what they should be doing, we need to show it; so I'm very happy to see VIBGYOR parents running with their children."
Success and happiness in the face of breast cancer begins with good health, personal understanding, and self-love. It is this inclination towards overall growth that makes VIBGYOR incredibly proud to be associated with Pinkathon this year. "It's an honour for VIBGYOR to have joined hands with Pinkathon for such an important reason, i.e. creating awareness among women about breast cancer. I thank the parents, kids, and staff for taking part in this event wholeheartedly," said Ms. Kavita Sahay, Vice-Chairperson, VIBGYOR Group of Schools.
With steady progress in spreading awareness about the importance of fitness, we hope to see a greater change in our society as we move towards women's empowerment across communities.