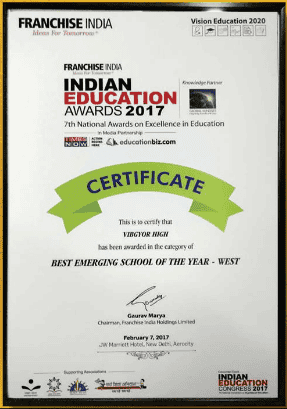 VIBGYOR High received an award for being the 'Best Emerging School of the Year – West' at the 7th Indian Education Award 2017. The event was held in Delhi at JW Marriot on 7th and 8th Feb in presence of eminent educationists.
VIBGYOR group of Schools are designed to meet the ever growing needs and demand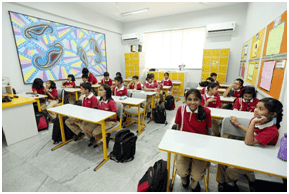 s of the 21st century students, offering holistic development. VIBGYOR emphasises on the overall intellectual, aesthetic, physical and cultural growth of the child. Learning resources, world class training in Sports and Performing Arts with indoor and outdoor activities along with music, speech & drama work on the overall development of the children. VIBGYOR High is equipped with well-stocked Library, Science, Math and Computer Labs, AV Rooms, Multipurpose Halls, large Cafeteria with an in-house kitchen, Sick Bay with a qualified nurse on duty, GPS enabled transport system and uninterrupted power supply.
Students get to choose from wide array of certified courses including ICSE (Indian Certificate of Secondary Education), CBSE (Central Board of Secondary Education) and CIE (Cambridge International Examinations) curriculum.
VIBGYOR High is an institution built with one clear purpose- to enable the children achieve a successful life and career, built on a firm, lasting and robust foundation. The students are given an opportunity to explore their talents, enhance their skills, question the usual and evolve into bright, young leaders of tomorrow.
This is the 3rd consecutive year that VIBGYOR Group has been recognised by the Indian Education Awards jury. Previously the Group has won awards for 'Best Academic Innovative Curriculum' in 2016 and 'K-12 School Chain of the Year- West' in 2015.
All these laurels serve as recognition for VIBGYOR Group of School's diligence in delivering quality education to the students and serve as a motivating factor to keep persevering.