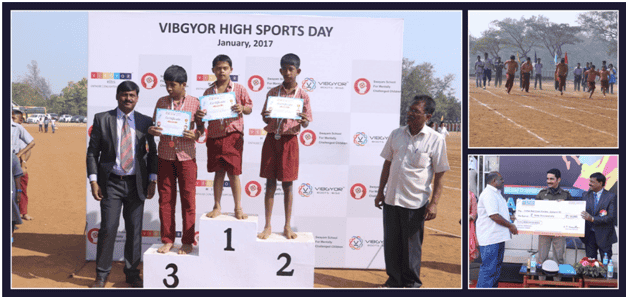 VIBGYOR High School, Kolhapur integrated their Annual Sports Day celebrations with a cause of supporting the mentally challenged students from Swayam School in Kolhapur. Mr. Vishwas Nangre Patil, Deputy Inspector General of Police (DIG) and Kolhapur District Collector, Dr. Amit Saini were present as the Chief Guests at the event. Mr. Vishwas Nangre Patil presented a cheque of Rs. 30,000, on behalf of VIBGYOR High to Mr. Pramod Bhise, Principal and Mrs. Sadhana Ghatage, Secretary & Treasurer of Swayam School.
In the inauguration ceremony of the sports day, held in the school premises, students from the NGO were invited to be a part of the celebration. These mentally challenged students set the stage on fire by presenting dance performances with much vigour and enthusiasm for the students, parents and teachers of VIBGYOR High. These students also participated in a running race organised by the school to create a fun-filled environment for them. Students from VIBGYOR High too entertained them with various activities like dance performance, judo, gymnastics, etc.
Speaking about the event, Mr. T. Balan, Principal of VIBGYOR High School, Kolhapur said, "At VIBGYOR High, we constantly encourage our students to contribute towards the betterment of society. This year, we planned to celebrate our sports day with a difference, while further nurturing the thought in our students. We are glad to see the fervour in the young stars from Swayam School as well as in our students. I am also thankful to our parents for gracing the occasion with their presence."
Swayam School, located at Kasaba Bawda road, Kolhapur, was established on June 25, 1990 with 6 students. The NGO, managed by Indian Red Cross Society, Kolhapur, has successfully completed 26 years of establishment having 115 students with them, at present.