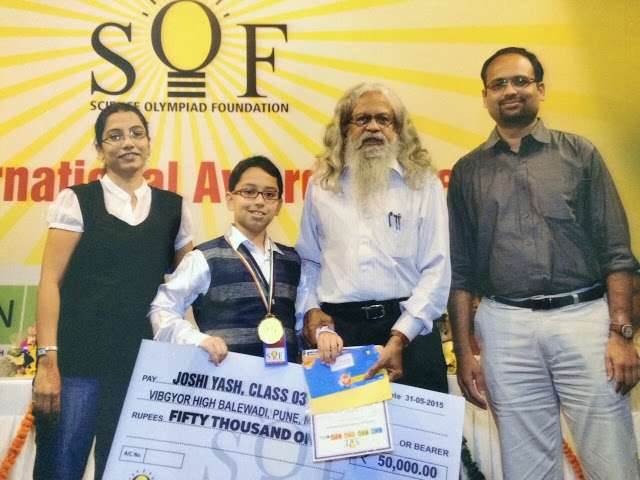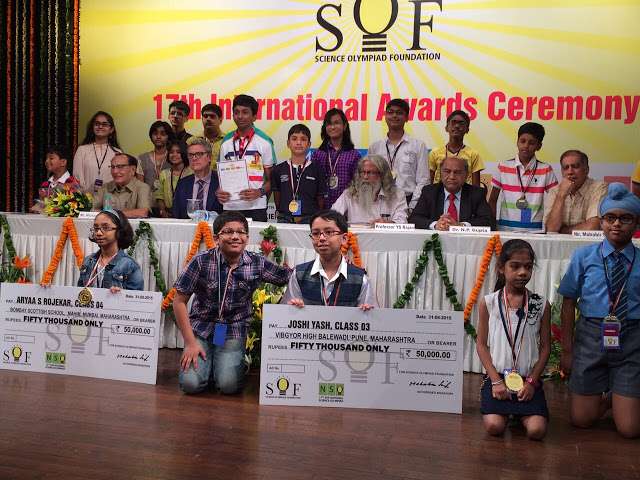 · Yash Joshi achieved first rank at the international level in the National Science Olympiad examination
· Also ranked first at the state level based on cumulative marks in all Olympiad examinations
· Honored with Gold Medal and Cash Prize of Rs. 50,000/-
India, June 1, 2015: Yash Joshi, a student of Grade 3 from VIBGYOR High, Balewadi was felicitated in New Delhi on May 31, 2015 for achieving First Rank at the International level in the 17th National Science Olympiad (NSO) in the academic year 2014-15. Guest of Honor, Padma Shree Prof YS Rajan Chairman, NIT Manipur & Hon'ble Distinguished Prof. at ISRO awarded Yash Joshi with a cash prize of Rs.50,000 along with a Gold Medal, Merit Certificate and a Gift voucher worth Rs. 1,000/-.
Besides, Padma Shree Prof YS Rajan, Chief Guest, Hon'ble Justice Mr. Deepak Verma, Former Judge, Supreme Court of India with Guest of Honor and Mr. Michael Gordon, Teaching Centre Manager, India, British Council were also present to grace the occasion.
During the felicitation Yash Joshi said, "I am honored for an appreciation at such a grand scale. Everything is very new and exciting for me over here. I never thought in my dreams that I can achieve this level of success in my life. I have to give credit to my school, teachers, parents and grandparents who were always there to teach me, clear doubts and encourage me throughout.
Yash is also entitled for SOF's Academic Excellence Scholarship (AES) award for securing first rank at the State level, based on the cumulative marks obtained. These marks are calculated considering the best of 3 out of 4 examinations – National Science Olympiad, National Cyber Olympiad, International Mathematics Olympiad, and International English Olympiad. He will be awarded with a cash prize of Rs. 5,000 along with a trophy and certificate for the same.