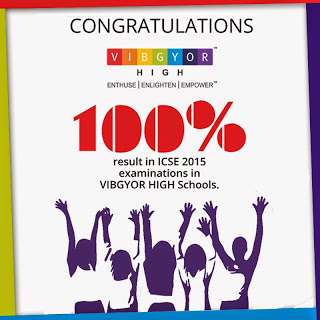 When the ICSE 2015 results were announced, there was a big reason to celebrate at VIBGYOR High group of schools – it had achieved
100% results
from across Mumbai, Pune, Vadodara and Bangalore centres in the 10 examinations.
This year, the number of students who took the Class 10 boards from several schools across India was around 1.59 lakh with a pass percentage of 98.49%. The results are up by 0.21%, making it ICSE's best in the last five years.
253 students, who appeared for the examinations this year from VIBGYOR High, passed with outstanding grades – 40% from across centres have scored more than 90% marks, while 93% have got a distinction.
The school has recorded a highest percentage of 96.8% secured by Tweesha Rakesh Jain from the Mumbai region. The toppers from other regions are Bhavna Arora and Siddarth Sai Amruth Yetikuri from Bangalore with 96%, Chinmay Pathak from Pune with 95.8% and Shah Dharmit Sandeep from Vadodara with 90.8%.
Tweesha Rakesh Jain, topper student, VIBGYOR High Mumbai School, expressed her happiness, saying, "I am extremely glad to see the wonderful outcome of my efforts. I am very thankful to my teachers, principal and my parents for providing constant support and motivation throughout the academic year. They were always present to provide me with expert guidance, wherever and whenever required."
Kavita Sahay, Director – Schools & Academics, VIBGYOR High Group of Schools said, "The learner-centric pedagogy at VIBGYOR High approaches each child as a separate entity, encouraging them to experiment and come upon their own strengths and weaknesses themselves."
Source: